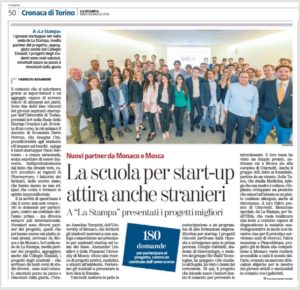 On 07.05.2018 the offices of La Stampa hosted the finals of the contest of student start-ups organized by the Department of Economics of the University of Turin. Author of the project Prof. Dario Peirone invited representatives of the La Stampa publishing house, UniCredit group, and University of Monaco to participate in the jury. Alexander Linnikov sat on the jury of the contest on behalf of the Financial University under the Government of the Russian Federation and the law firm of Linnikov & Partners.
Six teams composed of students of different backgrounds and specializations – from law and economics to medicine, biology, and construction – presented original projects based on complex inter-disciplinary research. It's important to note that the six finalists were gradually selected out of 180 teams that originally applied to the contest. By unanimous vote of the jury, the contest was won by two teams – Bio Build Technology and ALFI  – that came forward with innovative projects in construction and medicine. Both projects are driven by the real needs of the people and actual requirements of the economy.
Many thanks to friend and colleague Dario Peirone for the invitation to take part in the interesting and important initiative!