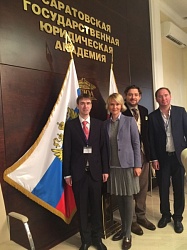 Alexander Linnikov and Leonid Karpov were invited by the Saratov State Law Academy (SSLA) to speak at the International academic and practical conference Issues of immigration and migration security in the modern world: legal, political, and humanitarian aspects. The event was held on September 28 and 29, 2016 in the context of the Saratov Law Readings dedicated to the 85th anniversary of the SSLA.
The attorneys of Linnikov & Partners delivered academic reports The Evolution and Current Problems of the Migration Policy of the European Union and Problems of the Migration Policy of the Eurasian Economic Union.
Alexander Linnikov and Leonid Karpov also contributed to the lively discussion on the most pressing matters of migration and migration policy of Russia and the states of the European Union. The event was attended by renowned Russian and foreign academics and politicians, representatives of the state authorities of the Russian Federation and the Saratov Region, prominent public figures and members of parliaments of European states.
In Saratov the guests from Moscow were hosted by the colleague in academic endeavors, talented young  legal scholar Eugene Pazyna – Assistant Professor of the Department of European Law and Comparative Legal Studies.