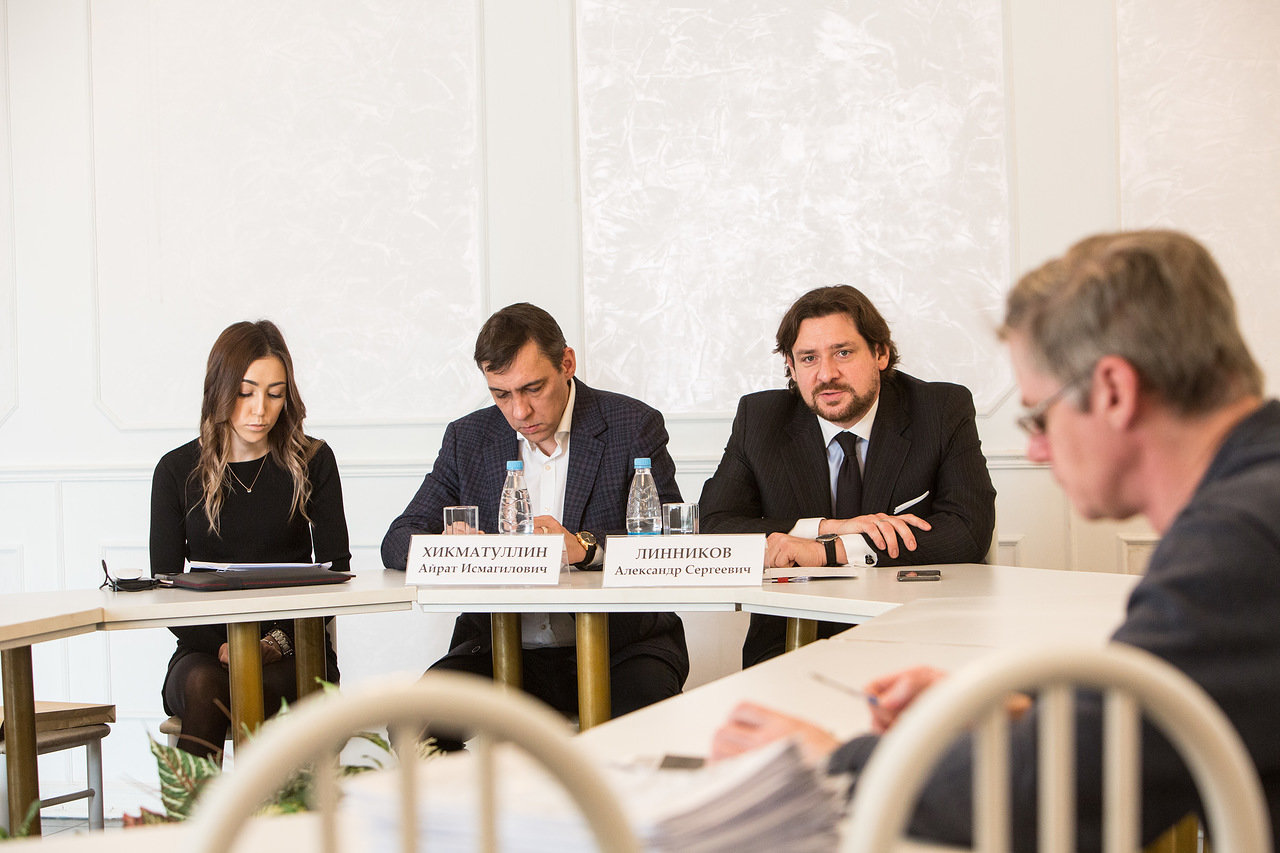 On 06/02/2018 at the Central Journalist House attorneys Alexander Linnikov and Ayrat Hickmatullin held the press conference on the case of the ex-Deputy Director of the Federal Penitentiary Service (FPS) of Russia Oleg Korshunov wrongfully accused of embezzlement and fraud. The press conference was attended by the journalists of major information agencies, printed and Internet media.
The press conference was meant as a response to the slander campaign against Mr. Korshunov that rages in the mass media. The typical example of a gross manipulation of the public opinion and the courts is the information on new criminal charges brought against Korshunov on 30/01/2018, intentionally "fed" to the media by the Investigative Committee exactly before the new custody extension hearing on 07/02/2018.
Alexander Linnikov and Ayrat Hickmatullin spoke in detail about the two-year history on illegal prosecution of Oleg Korshunov and unveiled the true goals pursued by new criminal cases: to keep Korshunov behind bars at any cost and substitute an actual investigation with new unfounded charges.
A close look at the case shoes that all charges  brought by the Investigative Committee are based on snitch reports and consist of speculations and suppositions. Not surprisingly, many journalists and public activists, previously quite unlikely to sympathize the FPS and personally Korshunov, after having reviewed the circumstances of the case, changed their opinions and started to support the accused. The defense is confident that the Korshunov case is one of many horrifying examples of incompetence of the Investigative Committee. Moreover, there are grounds to believe that the investigation is being manipulated by the ex-FPS bosses and crooked businessmen that have lost super profits because of reforms implemented by the team of the FPS Director Mr. Kornienko and the FPS ex-chief economist and financial officer – Oleg Korshunov. The very event of opening of new cases against Korshunov proves the total failure of the initial charges. It is now evident that with the new fraud charges the investigators attempt to cover up the complete fiasco of the embezzlement investigation that was questionable from the very beginning.
Hosts of the press conference thank the journalists for the interest in Oleg Korshunov's story and sincere will to go to the bottom of the case and bring the actual picture to the attention of the public. To a great disappointment, on 06/02/2018 the Basmanny District Court of Moscow has sided with the formal statements of the investigation and extended the custody term for Korshunov till
05/05/2018. Regretfully, it's not possible to exclude that the position of the court was influenced by the negative information intentionally planted in the media by the Investigative Committee and parties that covertly and unlawfully guide the investigation. It's obvious that the stubborn desire of the investigators to hold Korshunov under arrest is motivated by reasons far from lawful. The defense will file appeal on the decision of the court in due course.
You may view some of the publications following the press conference by following the links: