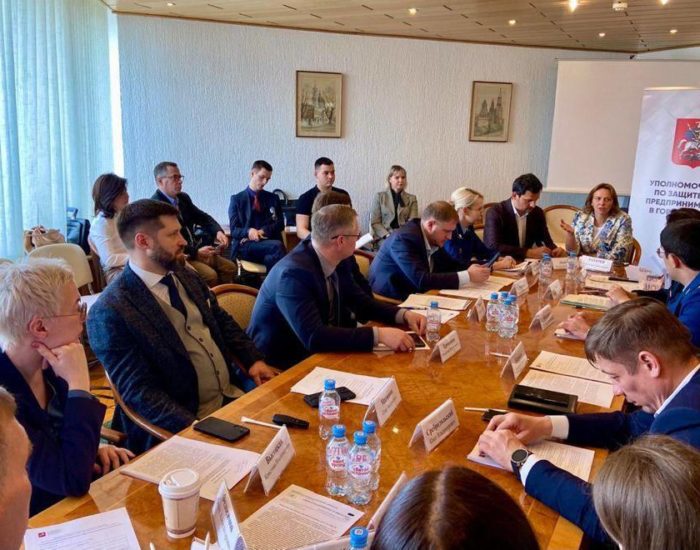 On 20/04/2023 Tatiana TSEPKINA joined the session of the Working Group for Criminal Procedure of the Public Commissioner for Protection of Rights of Entrepreneurs of the City of Moscow.
The session dedicated to matters of improvement of the laws of criminal procedure was attended by the officials of the Moscow Inter-Regional Transport Prosecutor's Office and the Office of the Prosecutor of the City of Moscow, the Moscow City Department of the Investigative Committee, the Moscow Department of the Federal Penitentiary Service and several other law enforcement authorities, as well as the Office of the Public Commissioner for Protection of Human Rights.
Members of the Working Group discussed with Federal Penitentiary Service and other law enforcement agencies the proposals to refine the procedure of opening of tax crime cases and amendments to clause 9 of art. 115 of the Code of Criminal Procedure, establishing specific rules of conduct for investigators in cases of lapse of the terms of arrest of property appointed by the court.
The issue of the introduction of a norm excluding the possibility for the administration of the pre-trial detention center to make a decision on the transfer of suspects, accused, as well as convicted persons for whom the guilty verdict has not entered into force, to pre-trial detention centers located in other subjects of the Russian Federation was most actively discussed. The representative of the Federal Penitentiary Service in Moscow acknowledged the cases of the transfer of persons held in Moscow's pre-trial detention centers to other regions and explained this by the overcrowding of Moscow pre-trial detention centers. So, today 10,303 people are being detained in eight pre-trial detention centers in Moscow, designed for 8,999 people. Thus, the cells of pre-trial detention centers are overcrowded by 14%, and in some pre-trial detention centers by all 25%. In such a situation, the FSIN is forced to stage convicts to wait for the verdict to enter into legal force in other regions of the country where there is an opportunity for their placement. Taking into account the fact that in Moscow the average time spent in custody is 1 year and 7 months (whereas in other regions it is only about 6 months), the number of newly arrested does not decrease, then the movement of persons in custody to wait for the verdict to enter into force becomes a forced measure to ensure the conditions of detention of suspects and accused.
Speaking about the conditions of detention of detainees in pre-trial detention centers, Tatiana Tsepkina stressed: "Of course, any change in the place of detention of a person, even under the pretext of fulfilling the norms of sanitary space in pre-trial detention facilities, is a restriction of the defendant's right to meet with a lawyer and prevents the preparation of a position at the stage of appeal of the verdict. At the same time, the problem of the so—called "over-limit" of Moscow pre-trial detention facilities can be easily solved by the election of preventive measures by the courts, alternative to detention – house arrest or bail, which in practice is almost not applied. Shortening the terms of the preliminary investigation due to the elimination of red tape may also contribute to reducing the occupancy rate of Moscow's pre-trial detention facilities."