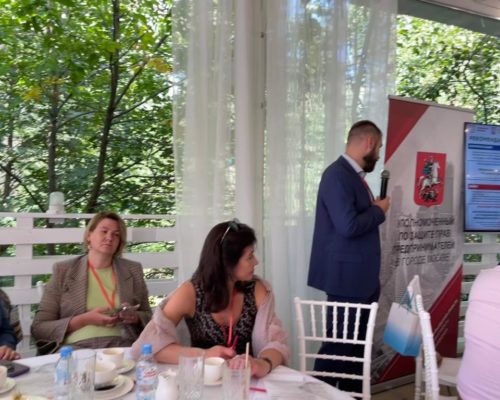 04/09/2023 Tatiana Tsepkina attended a "business breakfast" organized by Commissioner for the Protection of the rights of entrepreneurs in Moscow Tatiana Mineeva "The state for business: institutions, tools and forms of support for entrepreneurship in Moscow", at which they discussed issues of improving the effectiveness of business support measures in Moscow.
The meeting was attended by the Moscow Business Ombudsman, representatives of the banking sector, departments of the Moscow Government, journalists and numerous participants of the Commissioner's ecosystem.
A recent survey of entrepreneurs showed an increase in business activity in the capital this year, which suggests an optimistic mood of the business environment and an increase in Moscow's investment attractiveness.
The conversation between representatives of Federal and Moscow operators of support measures with entrepreneurs focused on discussing property, educational and financial measures of state support for business and ways to overcome administrative barriers that entrepreneurs face when seeking help.
«Regular meetings of Federal operators and Moscow authorities with entrepreneurs of the capital in the format of a business breakfast have become a discussion platform for discussing the organization and coordination of economic and legal measures to support Moscow business in cooperation with authorities and direct participation of The Commissioner for the Protection of the rights of entrepreneurs in the city of Moscow. The most important task of Public reception rooms, Centres of operational support for entrepreneurs at the Ombudsman – timely and accurate informing of entrepreneurs about measures of support available to small and medium–sized businesses», – comments Tatiana Tsepkina.