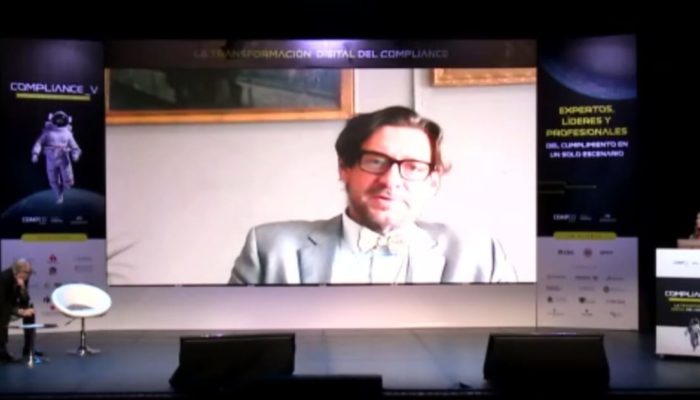 On 26/05/2023 V International Conference COMPLIANCE. DIGITAL TRANSFORMATION took place in Bogota, Colombia. Alexander Linnikov delivered the report entitled Impact of Financial and Export Compliance Laws on Business: the Case of Economic Sanctions on Russia in online format and answered multiple questions from the interested audience.  The session featuring Alexander Linnikov was hosted by his Argentinian colleague Santiago Orgbide.
COMPLIANCE_V. DIGITAL TRANSFORMATION is a large-scale annual event that brings together leading legal compliance experts from all over the South American continent. The conference is also attended by academics, practicing financiers, lawyers and experts from Europe, the USA and many other countries. The event is organized by CompCo (formerly Moncada Abogados) – a leading Colombian law firm, partner of the GRIMALDI ALLIANCE.
At the invitation of the founder and President of CompCo Juan Carlos Moncada, Alexander Linnikov spoke about challenges that Russian and international companies and banks face in an effort to stay in line with legislation on restrictive measures, as well as ways to minimize the risks of falling under secondary sanctions while working with Russian counterparties. The founder of LINNIKOV & PARTNERS cited several examples from the successful practice of L&P and the GRIMALDI ALLIANCE in the field of obtaining licenses from EU and US financial authorities, as well as unblocking payments and funds.
The L&P team thanks to America Compliance association and personally Juan Carlos Moncada for organizing such an interesting and productive event.  In the next year 2024 the founder of LINNIKOV & PARTNERS plans to visit Columbia and take part in the COMPLIANCE_VI conference in person.