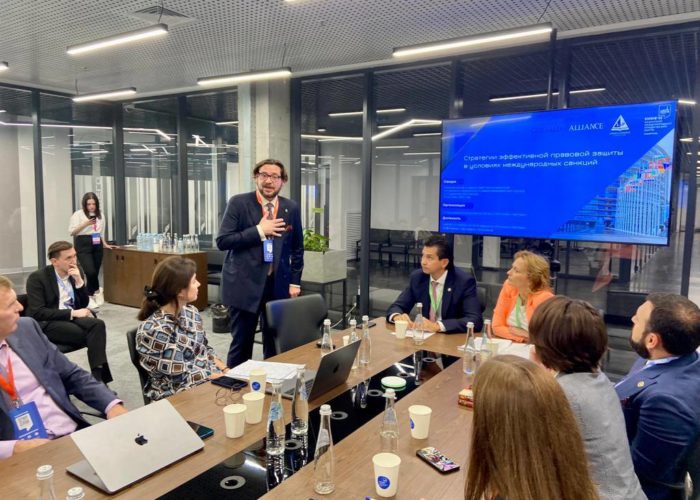 Alexander Linnikov and Tatiana Tsepkina participated in the Kazan International Legal Forum (KILF), held in the capital of Tatarstan on September 28 and 29. In 2023, KILF rightfully became one of the key events in the international legal community, bringing together more than 400 participants from Russia and many other countries. The forum was held with the support of the Government of the Republic of Tatarstan, the Mayor's Office of Kazan, Kazan Federal University (KFU), the Association of Lawyers of Russia, and the Association of Graduates of the Law Faculty of KFU. The forum's program was filled with interesting events, providing ample opportunities for the exchange of practical experience, communication with leading legal industry experts and the media, as well as for business meetings and negotiations.
As part of the section dedicated to the protection of entrepreneurs' rights, Alexander Linnikov delivered a presentation on the topic «Strategy for Effective Legal Protection in the Face of International Sanctions» and shared the unique experience of the «Linnikov & Partners» team in protecting the rights of Russian companies, banks, and entrepreneurs abroad. He also discussed a number of successful cases by L&P in unlocking Russian and Belarusian assets «frozen» in financial organizations in the United Kingdom, the United States, and the European Union.
In her presentation on «Subsidiary Liability of Persons Controlling a Credit Institution. Special Losses», Tatiana Tsepkina addressed the current issues of the subsidiary liability of top managers of credit organizations and provided the audience with a deep analysis of recent judicial practices, mainly based on cases handled by «Linnikov & Partners».
Alexander Linnikov, Tatiana Tsepkina, and the L&P team would like to thank the Authorized Representative for the Protection of Entrepreneurs' Rights in Moscow, Tatiana Mineeva, and the Assistant to the President of the Republic of Tatarstan, Farid Abdulganiev, for inviting them to participate in the section of the forum dedicated to the protection of entrepreneurs' rights.