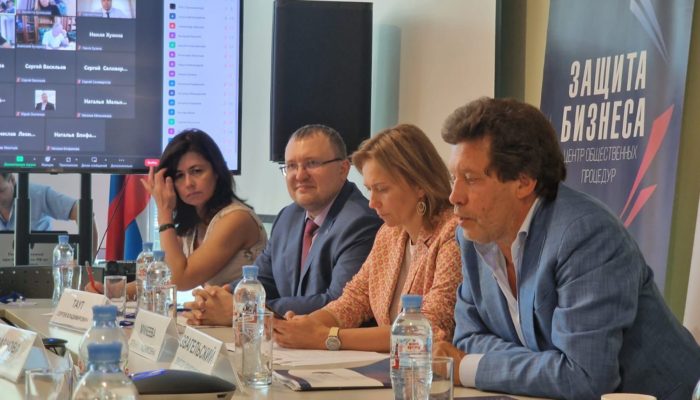 On 15/08/2023 Tatiana Tsepkina took part in a joint meeting of the Centers of Public Procedures "Business against Corruption" and "Protection of Business", which considered the appeals of entrepreneurs on violations of their rights in connection with the extension of a preventive measure, unjustified criminal prosecution and other issues.
Opening the meeting, Viktor Zvagelsky, Executive Co-Chairman of the Business against Corruption Center, noted the frequent cases of unjustified criminal prosecution of entrepreneurs for the execution of state contracts, which takes on a systemic nature.
The meeting was attended by the Co-Chairs of the Centers, the Moscow Business Ombudsman, representatives of the legal community, entrepreneurs and Pro Bono experts.
As part of the main agenda of the meeting, an appeal of the well-known blogger of the sole proprietor Elena Blinovskaya was read out, against whom several criminal cases were initiated, including a case of tax evasion. Elena Blinovskaya believes that the unjustified extension of house arrest with a ban on correspondence and using the Internet deprives her of the opportunity to carry out entrepreneurial activities, which in the future may lead to the impossibility of paying additional taxes.
The participants of the meeting also considered two appeals of entrepreneurs with complaints about the unjustified initiation of criminal cases with a significant violation of the criminal procedure law.
According to the results of hearing expert opinions and arguments of the applicants, the appeals of entrepreneurs were supported. Response measures will be taken on them.
"The centers of public Procedures operating under the Commissioner for the Protection of the Rights of Entrepreneurs under the President of Russia and the Commissioner for the Protection of the Rights of Entrepreneurs of the city of Moscow enable businesses to conduct a comprehensive independent legal examination of the facts of violation of their legal rights, and also provide public support and assistance in the preparation of appeals to state authorities and local self-government bodies. Joint meetings of the Centers become platforms on which a dialogue is built between business, authorities and the expert community," says Tatiana Tsepkina.