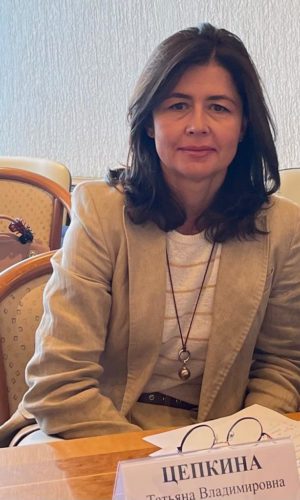 On 30/08/2023, a meeting of the Public Council of the PSC "Protection of Business" was held at The Commissioner for the Protection of the Rights of Entrepreneurs in Moscow, which was attended by lawyer Tatiana Tsepkina.
During the meeting, two appeals of entrepreneurs were considered with complaints about the illegality and unreasonableness of initiating criminal cases under p.2 of Article 199 of the Criminal Code of the Russian Federation, for violation of rights and legitimate interests in the investigation of criminal cases under consideration. These cases are united not only by the similarity of the elements of crimes – on the fact of tax evasion, but also by the fact that both cases were initiated based on materials sent by the tax authority to law enforcement agencies and initiated against unidentified persons. Cases are being investigated for more than six months, investigative actions are being carried out, but the procedural and legal status of the applicants has not been changed, and therefore entrepreneurs cannot take part in the investigation, raise questions before experts, and appeal against the actions of officials.
The participants, including reputable lawyers and experts, noted the systemic nature of the problem of initiating and investigating criminal cases against unidentified persons. At the same time, the Code of Criminal Procedure of the Russian Federation allows carrying out all necessary investigative actions in full on cases initiated against unidentified persons. Such an approach to the initiation and investigation of tax crimes affects the right to defence, deprives the potential accused of influencing the fate of criminal prosecution. The members of the Council discussed the expediency of forming a legislative initiative on the inadmissibility of initiating criminal proceedings on tax structures against unidentified persons and investigating them in full in relation to specific persons.
According to the results of hearing expert opinions and arguments of the applicants, one of the appeals of entrepreneurs was supported. Response measures will be taken on it.
"I suppose it is premature at this stage to talk about the illegality of the initiation of criminal cases considered at the meeting. Unfortunately, the actions of the tax and investigative authorities continue to be committed, as they say, on duty. Appeals of the capital's entrepreneurs related to bringing them to criminal responsibility for tax evasion are increasingly being submitted for consideration of Public Council, meetings of the working group on criminal procedure. One of the most important results of the meetings of the Public Council is the development of recommendations to applicants based on expert opinions and discussion of circumstances in a particular case," – says Tatiana Tsepkina.